E. Hardy Lewis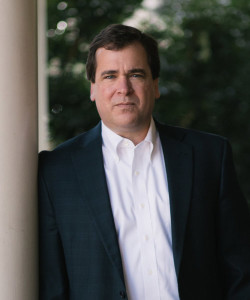 Hardy Lewis was born and raised in Fayetteville, North Carolina and graduated from the University of Notre Dame in South Bend, Indiana in 1987. At Notre Dame, Hardy studied English, with a second major in business administration. After college, he moved to Chicago and worked for Chrysler Credit as a collections agent and repo man. Prior to law school, Hardy's other gainful and semi-gainful employment included work as a route salesman for a beer distributor, janitor, landscaper, waiter, bicycle courier, and pizza chef. Hardy graduated from the University of North Carolina School of Law in 1991. At UNC law school he was a staff member and, later, Articles Editor of the North Carolina Law Review.  

After the bar exam in summer 1991, Hardy went to work as an associate with the Raleigh firm of Tharrington, Smith & Hargrove, eventually becoming a partner in 1997. His experience there included a broad range of trial and non-trial practice areas, including complex civil and criminal litigation, serious personal injury, voting rights litigation, disciplinary matters before professional licensing boards, and the representation of business in highly regulated industries, with a particular emphasis on the alcoholic beverage industry. 

In late 1999, Hardy joined Philip Miller and Charlie Blanchard in the firm that has become Blanchard, Miller, Lewis & Isley. Since then, he has continued to focus his civil litigation practice on serious personal injury matters, business and commercial cases, and state and federal constitutional law. These cases have included catastrophic injury from truck and automobile accidents, sports injuries, defective products, and professional negligence, as well as commercial matters including contract disputes, construction and lien law, unfair trade practices, and employment law including non-compete provisions.
Hardy's involvement in the alcoholic beverage industry stretches all the way back to his high school and college summers spent working on beer trucks as a route salesman for his local Miller Brewing distributor. Working beer routes in a military town in the '80s meant early exposure to off-the-beaten-path breweries before even the idea of micro and craft breweries became popular. This experience, coupled with a love of beer and brewing, made for a natural fit with his first firm's extensive representation of beer and wine wholesalers. Since coming to Blanchard, Miller, Lewis & Isley, Hardy's alcoholic beverage practice has expanded to all tiers of the industry. His client list is nationwide, and includes small and large breweries, wineries, importers, wholesalers, hotels, restaurants, taverns, big box and independent retailers, internet retailers, and airlines. A large part of this practice is focused on representing North Carolina craft brewers in general business matters, litigation, and legislative advocacy.
In addition to his work before the NC ABC Commission, Hardy maintains an active administrative practice representing businesses and individuals facing enforcement or professional discipline before North Carolina occupational licensing boards and agencies. These clients have included, among others, doctors, lawyers, general contractors, counselors, real estate brokers and appraisers, social workers, private investigators and physical therapists. Often, enforcement actions must be litigated in the courts rather than in administrative proceedings. Hardy frequently has represented clients in civil and criminal enforcement litigation involving gaming, the unauthorized practice of law, securities matters, debt adjustment, and other industries. He also represents clients in select federal grand jury proceedings.
Hardy has pursued a particular interest in cases involving important questions of public policy, and this is reflected in much of his work, both fee-based and pro bono. Notable among these cases is Stone, et al. v. Easley, et al. (2007), in which Hardy served as Lead Class Counsel for a group of more than 500,000 North Carolina Teachers and State Employees. This class action litigation challenged a Governor's executive order diverting approximately $130 million of public retirement system funds for use in balancing the State budget. The trial court ruled that the governor's actions were unconstitutional, and the decision was upheld on appeal. Hardy served as lead appellate counsel in a public records act lawsuit against the State Treasurer (State Employees Ass'n of NC v. Moore, 2010), which resulted in a unanimous Supreme Court decision described by an attorney for the N.C. Press Association and N.C. Association of Broadcasters as "the most important statement by the North Carolina Supreme Court on open government in 20 years." Hardy also has served as counsel for four members of the North Carolina Council of State (McCrory v. Berger, 2016), as well as a bipartisan group of eight members of the N.C. Senate and N.C. House of Representatives in amicus curiae efforts in the North Carolina Supreme Court. (Goldston v. State, 2010) He also maintains an active death penalty practice, representing condemned clients on pro bono or court-appointed bases in state and federal postconviction proceedings, including current involvement in lethal injection litigation in federal, state and administrative courts. 

Hardy is licensed to practice in all state and federal courts of North Carolina, as well as the United States Courts of Appeals for the Fourth Circuit and the D.C. Circuit, and the United States Supreme Court. He has extensive appellate experience, having argued appeals before the Fourth Circuit, the North Carolina Supreme Court, the North Carolina Court of Appeals, and the Illinois Supreme Court.
Hardy has been recognized by his peers for the quality of his work on behalf of his clients. He has the highest rating, AV, from the Martindale Hubbell rating service. For many years he has been listed in Business North Carolina magazine's Legal Elite, and in the North Carolina Super Lawyers publication. He is active in the community and the bar, and has recently served on the Board of Directors of the Wake County Bar. He has been the Chairman of the 10th Judicial District Fee Dispute Resolution Committee for the past five years.
Hardy is married with two children. He is an avid but not obnoxious fan of Notre Dame football and Carolina Hurricanes hockey.
Email: hlewis@bmlilaw.com